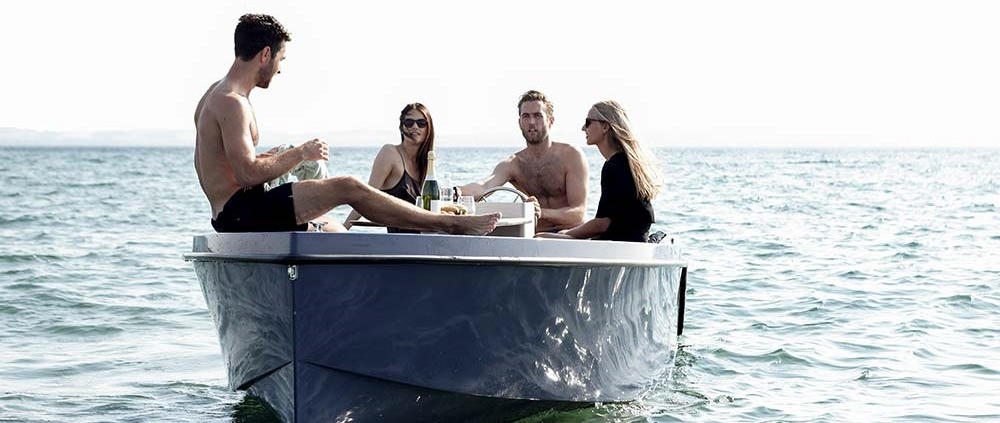 Revolution in the boat industry
The revolution that is currently underway in the automotive industry is a clear guide to what will also happen in the boat industry. Perhaps we soon can find this and similar rechargeable "powerbanks" in the archipelago shortly?
At the Geneva Motor Show, which runs until March 17, Volkswagen Group Components showcases a design study of a mobile fast charging station. With a compact design, this "powerbank" can be installed anywhere where demand exists or where charging opportunities for electric cars are missing.
The mobile charging station works just like a power bank, of the type we use for our mobile phones, but is instead designed for electric cars – considerably larger and more powerful. It has a charging capacity of up to 360 kWh, which is sufficient for charging up to 15 electric cars. The batteries in electric cars can be charged quickly and efficiently thanks to DC fast charging technology, with a capacity of 100kW.
If the station is charged with renewable energy from the sun or wind, the charging station can temporarily store the energy, thus offering CO2-neutral driving with the car.
Countries such as Sweden that input a high proportion of renewable energy into the network will for the first time be able to store a percentage of the energy with this charging station. At the same time, interim storage of energy relieves the pressure on the electricity grid during high-load times.
The charging station's technology is based on the Volkswagen Group's electric vehicle platform MEB and is designed to use the platform's battery cell modules. The charging station will give batteries from electric cars a second life because end-of-life batteries can be reconditioned and then reused in these stations, which reduces the use of valuable raw materials in the long term.
Read the full article in Swedish here:
https://via.tt.se/pressmeddelande/volkswagens-powerbank-for-elbilar-visas-upp-i-geneve?publisherId=1995691&releaseId=3252199
https://goelectric.se/wp-content/uploads/2019/03/rand-18-picknic-electric-boat_3-1.jpg
460
1000
grundin
https://goelectric.se/wp-content/uploads/2019/03/logo.svg
grundin
2019-03-12 11:29:17
2019-04-03 12:13:14
Revolution in the boat industry